Tik Tok android is the android OS mobile app of the most popular Chinese-owned social media app. This app's sudden fame still amazes a lot of people after its launch in 2016. It's among the world's fastest-growing social media network with more than 800 million active users in the space of 3 years.
With the Tik Tok app, users can create short interesting videos and share them with the large Tik Tok community. Tik Tok aims at giving everyone the ability to express their creativity and thoughts through their videos. This social media platform is unique because unlike other social media platform that focuses more on lifestyle and business, it centres on entertainment and creativeness.
Tik Tok App Review
Tik Tok is mostly used by juveniles i.e children, teenagers, young adults because of its entertaining characteristics. This has raised some concerns among parents about the app's effect on their children.
Countries like India have already placed a ban on the app and more countries might follow in such steps. India cited its reasons explaining that the app infringes on the rules guiding its people and like the U.S government did, further explained that the app is a threat to their national security.
The app has been downloaded more than 2 billion times already on the Apple app and Google play store. Overall, Tik Tok is a fun place to be in. But with the concerns and worries of its safety and etiquette, one might rethink downloading the app.
Also, Read The Ultimate Guide On How to Create a Facebook Avatar – Facebook Avatar In Africa 2020
How to Download Tik Tok On Android Device
On your android device, visit the Google play store;
Normally, the app should be in the Google play store homepage. Don't see it there, use the search tab at the top and type in "Tik Tok".
Select the Tik Tok app with a "Trends Start Here" inscription.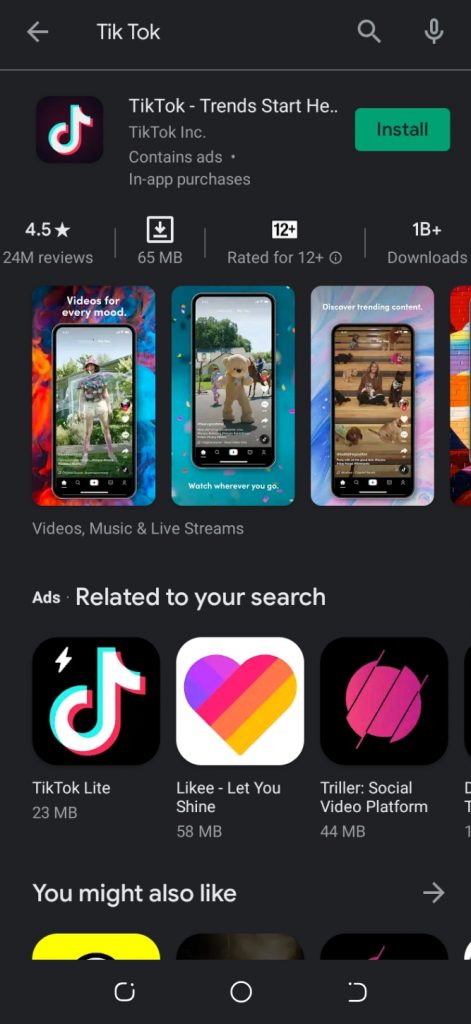 Have a small range device with low functioning capacity; select the Tik Tok Lite app instead. It's smaller in size than the regular Tik Tok app.
Tap on "Install" to download the app.
Once it finishes downloading, you can now create an account on your Tik Tok android app.
You Might Also Like How to Use the YouTube Music App – Everything You Need to Know About the YouTube Music App
Signing Up For Tik Tok On Android
You could sign up via email, phone number, Facebook, Gmail, or Twitter. I would advise you to use your mobile number unless you would like to link your other social media accounts to your Tik Tok account.
Any way you choose to set-up your Tik Tok account, just adhere to the app's prompt to complete the process. The only personal details you would be prompted to input would be your date of birth.
Other required details includes, mobile number or email address, username and password.  
Editor's Pick
How to Hide SMS On Android – Effiecient Ways to Keep Your Messages Hidden On Android
List of Best Video Calling Apps For Android – 7 Best Video – Chats App For Android